Teletherapy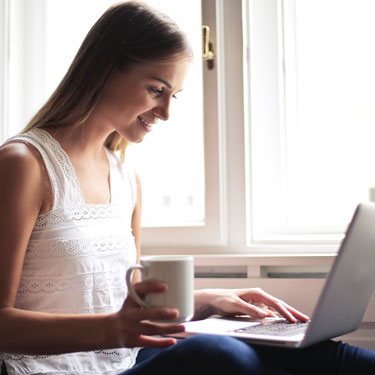 What is happening now as a result of the Coronavirus Pandemic was seemingly unimaginable just a few short weeks ago. Who could have predicted that in such a short period of time, life as we knew it would grind to a screeching halt?
Since the shutdown of most Long Island schools, businesses and organizations, as well as the increasing social distancing measures, people are struggling. Some common concerns felt by an increasing number of people include:
Anxiety about the health of your loved ones and yourself, as well as the impact on community's schools, local businesses, and civic organizations.
Feelings of withdrawal and isolation from others.
Depression resulting from the halt in normal life and routines.
Stress from balancing working from home, helping your children adjust to the changes, and finding the time and energy for self-care.
Feeling obsessed about washing hands, cleaning, and other protective measures to keep everyone you love safe.
Children who were experiencing difficulties in school are now expected to learn and complete assignments without the traditional support of teachers and support staff.
It feels like we are under pressure that no one has ever experienced before. What's important to note is that understanding, compassion, and help are available for you and your family during this very difficult time. Even though you may not be able to get this support in the traditional face-to-face setting, it's out there.
This is uncharted territory for all of us, and we are in this together. If you are struggling it might feel like there is nowhere to turn for help. With recommendations or even orders to stay home, what can you do to get the help you or a family member needs?
The same therapy that offers a calm and safe space to receive the support you need can be found through teletherapy. It might sound like an invention born from the current health crisis, but the truth is - online therapy sessions have been around for years.
Let's take a look at what teletherapy is and how virtual sessions might be able to help your family through this unprecedented time in history.
ABOUT TELETHERAPY
Teletherapy is a traditional mode of therapy that is conducted through video chatting or over the phone instead of in an office setting. It has been shown to be effective in helping people learn how to handle difficult emotions, thoughts, behaviors, and situations in their lives, with the flexibility of location and scheduling.
People have the opportunity to work on what is troubling them through teletherapy, without having to leave home, rearrange their schedule, or find someone to care for children or an ill family member. If proximity is an issue, virtual therapy allows you to find the right therapist to work with, even if that therapist's office is too far away to travel to regularly.
HOW TO MEET THE CURRENT CHALLENGES WE FACE
Through therapy sessions conducted over video or phone, people have been able to learn effective ways of handling issues such as anxiety, loneliness, stress, depression, and adjustment to working or being schooled at home.
By learning the techniques of Cognitive-Behavioral Therapy, they have found stability, rebuilt routines, establish deeper connections, developed a healthier and more flexible mindset, become more resilient, and even become a better support to their friends and family to help them get through uncertain times.
Teletherapy allows us to work together to get through this crisis without having to be in the same room, or even in Nassau County.
COMMON QUESTIONS ABOUT TELETHERAPY
For video, just an internet connection and either your cell phone, tablet, or computer. Most devices have a built-in microphone and camera, but they can be purchased online or in a computer or electronics store and installed easily if it is necessary. Some people like using headphones or earbuds for additional privacy.
If finding a quiet and secluded place to have a video session is tricky, a session over the phone might be easier. A telephone session can be done using either your home phone or cell phone.
This type of thinking is very common, for both clients and therapists alike. Typically, people who engage in teletherapy develop a comfort level with it during the first session. It is not the same as working face-to-face, but it is effective when needed. While it can be strange at first, the adjustment does not take too long and many people choose to continue meeting this way permanently.
Let's face it - young people have lived their entire lives using screens to learn and communicate. Teenagers often prefer interacting this way, having grown up on apps like FaceTime, Snapchat, and Tik Tok.
For younger children, they will successfully participate in teletherapy, but their attention span may sometimes wane as the session progresses. It's important to keep in mind that this also happens during traditional therapy. When this occurs, the remainder of the session is spent working with parents on what they can do to help with the issues affecting their child.
When choosing the right meeting platform for your teletherapy sessions there are a number of options. There are many different options that have been available for many years. There are also some new options that have been put in place temporarily as a result of the Coronavirus outbreak.
Whatever platform we use must have certain security measures to ensure the confidentiality of your treatment. A video program that is embedded in our secure electronic health record offers up the appropriate level of privacy. Many people have found this system to be very easy to access, with high-quality picture and sound with minimal interruptions.
The link for each video session is sent to you before the session so you can access it easily at the time of your appointment. Another option that might be used is a program called Doxy.me or the Zoom platform. Zoom is currently the most popular program in use for video conferencing.
FaceTime, Skype, and Google Hangouts do not have the same security measures, but the recent easing of regulations allows these to be used if needed during the COVID-19 crisis. If you would prefer to have a session on one of these, feel free to let us know.
In actuality, teletherapy has been in existence for many years. Everything from scheduling difficulties to childcare concerns and even proximity to the office has created a situation where many people request this type of therapy. Despite its long time existence, the COVID-19 Pandemic has brought teletherapy quickly to the mainstream conversation for modern mental health services. It has become a necessity for people that now have a "shelter-in-place" or stay-at-home directive.
Teletherapy can be used across state lines, however, the therapist providing the therapy MUST be at least temporarily licensed in the state where you reside.
At this time, we can help people through teletherapy in a number of different states. Please contact us to find out more.
A FINAL WORD ON TELETHERAPY
For most people, in traditional circumstances, face-to-face CBT therapy is ideal. However, there are many reasons for the necessity of teletherapy. With more and more people being asked to stay at home, working with a psychologist virtually has become a must for many people.
Despite any worry you have regarding the effectiveness of teletherapy versus traditional therapy, know that no amount of initial discomfort is worth withholding treatment. We can work together to make sure that you get the most from the experience.